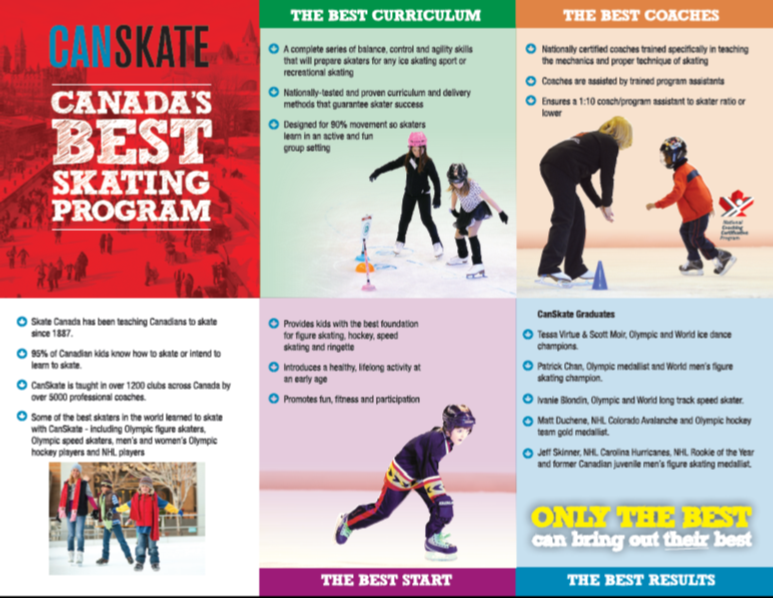 CANSkate Programs
CANSkate is Skate Canada's flagship learn-to-skate program, designed for beginners of all ages. When you sign your child up for CanSkate your child will participate in a program that focuses on fun, participation and basic skill development. He/she will earn badges and other incentives as she/he learn fundamental skating skills. Lessons are given in a group format and led by an NCCP certified professional coach with a maximum 1:10 coach to student ratio. Professional coaches are assisted by trained Program Assistants.
Program Structure

The CANSkate program focuses on the development of six fundamental movements organized in six stages (badges) of learning. Within each stage, there are 3 areas of focus, Agility, Balance and Control (Ribbons). Once mastering each area of focus (all 3 ribbons), a badge is earned and the skater moves onto the next stage.
Stage 1:
Beginners – this involves basic balance skills, walking backwards and forwards, falling down and getting up, quarter bend turns, and two-foot jumping.
Stage 2:
This level focuses on forward gliding. Push/glide sequence, two foot sculling, two-foot half-turn, two-foot spin, two-foot jump from a glide, and forward snowplow are introduced.
Stage 3 :
This level focuses on backwards as well as forwards gliding. Forward slalom, backward push/glide sequence, backward two-foot sculling, backward snowplow, two-foot half turns from a glide, and two-foot jump from a backward glide are introduced.
Stage 4:
This level introduces skaters to the use of their edges. Skaters learn forward and backward glides on a curve, forward walking cross-cuts, backward slalom, forward two-foot side stops, turning forward to backward on a curve both on two feet and on one foot, forward one-foot spin, and two-foot sit-spin, and two-foot half-turn jumps.
Stage 5:
This level focuses on increasing the skater's power. Skaters learn forward and backward circle thrusts, one-foot side stop, turning backward to forward on a curve while changing feet, one-foot backward spin, one-foot forward to backward jumps, and forward power jumps.
Stage 6:
This level focuses on increasing the skater's speed. Fast perimeter stroking forward and backward, backward crosscuts, circle stroking with crosscuts and turns, back toe-assisted jump and rotating power jump.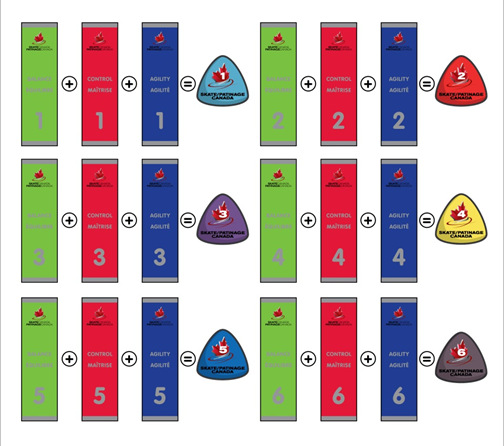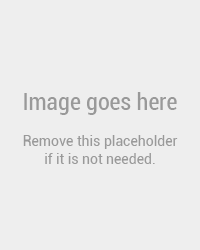 Repeating Title
This is the section that would repeat.
Click on the Edit icon on the top right of this area to replace this content and add images as you would like.
Click on the Add Section icon (looks like two pages on top of each other) to add another section just like this one after this section